Events and Activities
Publications
January 21, 2021
Review of special issue on Max Weber by Yufei Zhou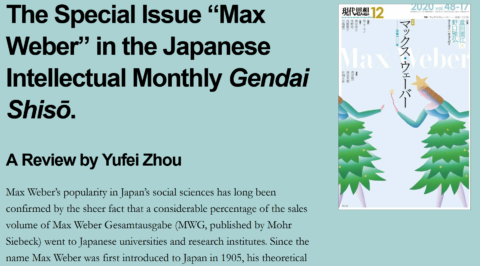 Max Weber's popularity in Japan remains unbroken. To mark the 100th anniversary of his death, the prestigious intellectual journal Gendai Shisō (現代思想) has published a special issue (12/2020) dedicated to his works and intellectual influence. Leading Japanese intellectuals and Weber scholars have contributed 24 essays to this issue, including Mishima Ken'ichi ("Disenchantment Reconsidered"), Suzuki Masahiro ("Weber in Contemporary Chinese Thought"), and Konno Hajime ("Imagining Max Weber as a Prophet"). For the Max Weber Foundation's blog "Max Weber in der Welt", our Senior Research Fellow and historian Yufei Zhou has written a detailed review of this special issue which introduces the individual contributions.
Franz Waldenberger in DIE ZEIT on Japan's economic policy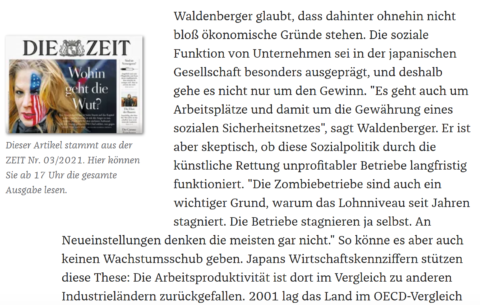 DIJ director and economist Franz Waldenberger commented in the current issue of DIE ZEIT (3/21) on the Japanese government's strategy of artificially keeping so-called "zombie companies" alive through state-guaranteed loans. "The zero interest rate policy ensures that the selection process between productive and unproductive companies weakens." At the same time, he explained that these subsidies to unprofitable businesses in Japan fulfilled a social function. "It is also about jobs and thus about providing a social safety net," Waldenberger stressed. The article "Land of Zombies" (in German) can also be read in the online edition here.
Season's Greetings and best wishes for the New Year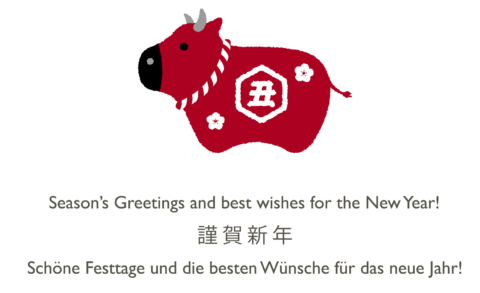 Das Deutsche Institut für Japanstudien wünscht erholsame und frohe Festtage und einen guten Start in ein erfolgreiches Jahr des Büffels!
The German Institute for Japanese Studies wishes you a happy holiday season and a successful Year of the Ox!
ドイツ日本研究所一同、皆様のご多幸と来るべき新年が成功の年になることを祈念いたします。
Publications
December 22, 2020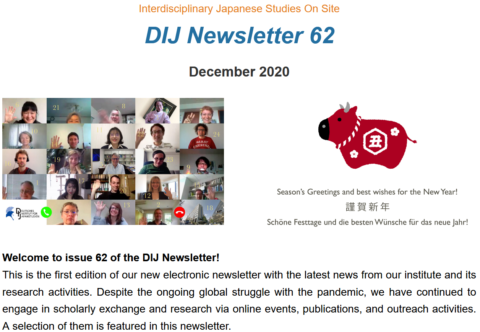 After 23 years, the DIJ has replaced its print edition of the DIJ Newsletter with a new, email format. Most sections from our print version remain but we have also added some new ones, such as 'DIJ in the Media', 'Alumni News', and 'Social Media'. The new format enables us to share more information on our recent research and publication activities with you more directly and more frequently. Also new in this issue: you will find links to information on our DIJ webpages in German, Japanese, and English whenever content in these languages is available. We hope you will enjoy exploring this new DIJ Newsletter and the selection of activities and output of the DIJ and its researchers during the past months.
If you would like to receive the next issue of our newsletter in your inbox, please subscribe here.
Publications
December 21, 2020
New Publication: Routledge Handbook of Contemporary Japan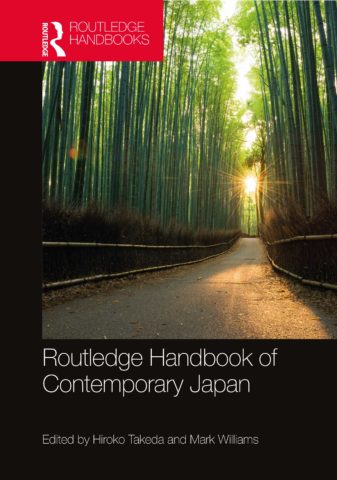 DIJ Director Franz Waldenberger has contributed the chapter "The Japanese Economy" to the recently published Routledge Handbook of Contemporary Japan, edited by Hiroko Takeda and Mark Williams. The chapter analyzes the development of the Japanese economy over the last 40 years. It covers the advantages of Japan's institutional set-up in the 1980s, the burst of Japan's 'bubble economy', the  so-called 'lost decades' of low growth and recession as well as recent government initiatives to stimulate productivity growth with corporate governance and 'work-style' reforms. The chapter also contains an outlook on future developments. In addition to the challenges posed by the global pandemic, climate change, and digital transformation, they are characterized by unprecedented demographic change, a deflationary environment and huge government debt supported by an extreme expansion of the monetary base.
Publications
December 18, 2020
Handbook Studying Japan published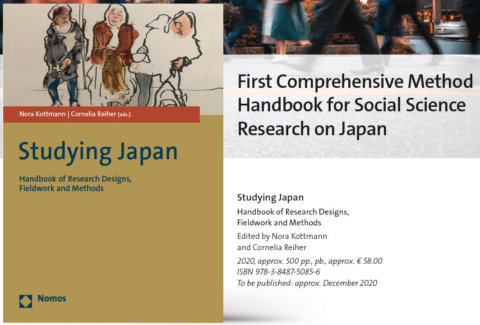 Studying Japan. Handbook of Research Designs, Fieldwork and Methods (Nomos 2020), edited by Nora Kottmann and Cornelia Reiher, is the first comprehensive guide to qualitative methods, research designs and fieldwork in social science research on Japan. More than 70 Japan scholars from around the world provide an easy-to-read overview of qualitative methods used in research on Japan's society, politics, culture and history. The book covers the entire research process from the outset to the completion of a thesis, paper, or book. The authors give basic introductions to individual methods, discuss their experiences when applying these methods and highlight current trends in research on Japan. The authors include DIJ researchers Isaac Gagné, Sonja Ganseforth, Markus Heckel, Barbara Holthus, and Franz Waldenberger as well as DIJ alumni Verena Blechinger-Talcott, Steffen Heinrich, Carola Hommerich, Katharina Hülsmann, Hanno Jentzsch, Susanne Klien, Annette Schad-Seifert, Kai Schulze, Gabi Vogt, Cosima Wagner, Anna Wiemann, and Urs Matthias Zachmann. The book can be purchased from the publisher.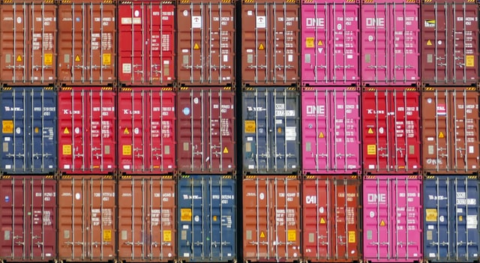 In this online session of the DIJ Business & Economics Study Group, our former PhD fellow Aya Adachi will present her research project which explores through a Comparative Political Economy perspective why Preferential Trade Agreements (PTAs) patterns differ in form and scope. The cases of China and Japan demonstrate the value of analyzing the role of the state and its interrelations with sub-national and market actors and spheres in PTA policy-making within two vastly different political systems. The main findings of this project show that the scope and depth of Japan's PTAs are more consistent pronounced, while the scope of China's PTAs are limited, with a main focus on liberalization of trade in goods. These differences have also regional and global economic governance implications: while China is promoting a supplementary and informal approach, Japan is supporting a more regulatory-based governance. Details
Speaker:
Aya Adachi, Ruhr University Bochum & University of Duisburg-Essen
DIJ researchers give talks at Euraxess European Research Day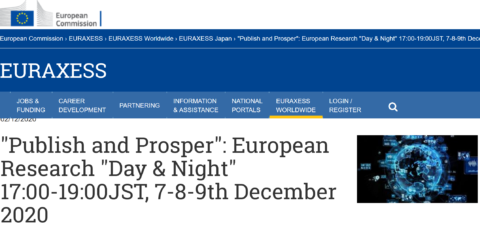 Deputy director Barbara Holthus and Senior Research Fellow Nora Kottmann will present their latest and upcoming book publications at the European Research Day & Night "Publish and Prosper" on December 9th. The event is organized by Euraxess Japan, the EU-sponsored initiative to support and connect researchers in Japan. Barbara will present the recent DIJ publication project "Japan Through the Lens of the Tokyo Olympics: an Open Access Book". Nora's talk "Doing Research on/in Japan: Methods and Methodologies" will introduce her forthcoming co-edited volume Studying Japan. Handbook of Research Designs, Fieldwork and Methods. Registration and programme of this online event here