Veranstaltungen und Aktivitäten
Stellenangebot Mitarbeiterin / Mitarbeiter (m/w/d) Verwaltung
Das Deutsche Institut für Japanstudien (DIJ) sucht eine Mitarbeiterin / einen Mitarbeiter (w/m/d) für Aufgaben in der Verwaltung
Die mit der Stelle verbundenen Aufgaben umfassen
Haushaltsmittelbewirtschaftung, inklusive Buchhaltung
Abwicklung von Drittmittelprojekten
Personalsachbearbeitung
Budgetplanung
allgemeinen Verwaltungsangelegenheiten
Bewerbungen sind bis 8. Juli 2022 einzureichen.
Weitere Einzelheiten entnehmen Sie bitte der PDF Datei.
Season's Greetings and best wishes for the New Year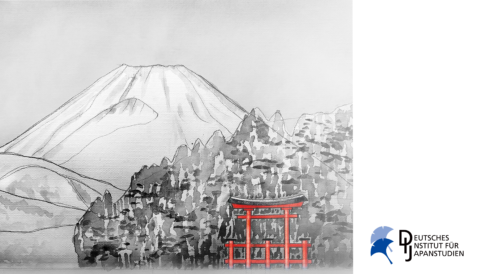 Das Deutsche Institut für Japanstudien wünscht erholsame und frohe Festtage und einen guten Start in ein erfolgreiches Jahr des Tigers!
The German Institute for Japanese Studies wishes you a happy holiday season and a successful Year of the Tiger!
ドイツ日本研究所一同、皆様のご多幸と来るべき新年が成功の年になることを祈念いたします。
Germany's new Ambassador to Japan visits DIJ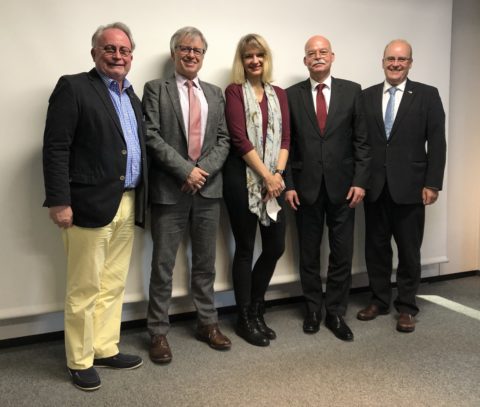 On October 20, Germany's new Ambassador to Japan, Clemens von Goetze, visited our institute. He was accompanied by Lothar Mennicken, the Embassy's Counsellor for Science and Technology. DIJ director Franz Waldenberger, deputy director Barbara Holthus, and administrative director Joachim Röhr informed the Ambassador about the institute's ongoing research activities. Franz Waldenberger also presented the Ambassador with a selection of latest DIJ publications. The Ambassador expressed great interest in the DIJ's expertise in different aspects of contemporary Japan, in particular society and politics. Before assuming his current post, Clemens von Goetze was Germany's Ambassador to Israel (2015-18) and to the People's Republic of China (2018-21). We are very pleased and honoured that Ambassador Goetze took the time to visit our institute one day before presenting his credentials to the Emperor at the Imperial Palace. Photo (left to right): Joachim Röhr, Franz Waldenberger, Barbara Holthus, Clemens von Goetze, Lothar Mennicken.
DIJ expertise on Tokyo Olympics in international media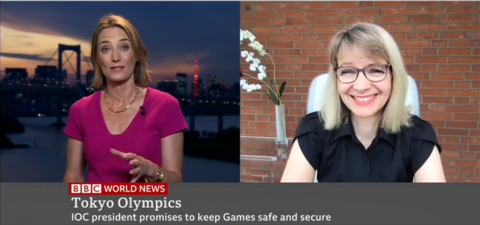 The Tokyo Olympics are now history — but what remains as their legacy? During the past few weeks several international media have interviewed DIJ director Franz Waldenberger and deputy director Barbara Holthus as well as principal researchers Sonja Ganseforth and Torsten Weber on different aspects of the Games. Franz Waldenberger commented on the exploding costs of Tokyo 2020 for Tagesschau online and the DLF Players podcast. Barbara Holthus appeared in live TV interviews on Al Jazeera, the BBC and was quoted in AP News, DLF radio, HR radio, Welt, and several other German and international media. An interview with Sonja Ganseforth on the anti-Olympic protests appeared in Japanese in the Mainichi daily newspaper. Comments by Torsten Weber on Tokyo's Olympic past appeared in the Neue Zürcher Zeitung, Frankfurter Rundschau, Münchner Merkur, and Weekendavisen. For more information on research related to the Olympics, see the DIJ's special project on the Tokyo Olympics and the open access book publication Japan Through the Lens of the Tokyo Olympics. 
"Sophistication with understatement" – Franz Waldenberger interviewed on Japanese radio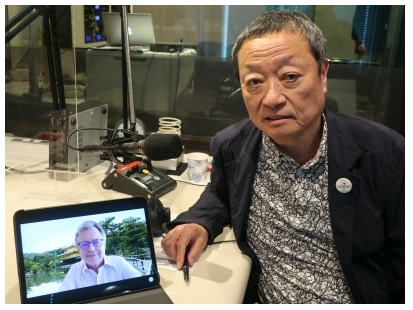 DIJ director Franz Waldenberger shared his views on Japanese and German society in an interview series with Oguro Kazumi, the host of Lohas Talk on J-Wave radio. Franz introduced the institute, its research, and his own interests in Japanese society and economy. He revealed that he had a "positive culture shock" when he first came to Japan and that he was impressed with the unique "atmosphere", importance of "human relations", and "politeness". The talk also touched upon women in politics, work-style, and work-life-balance. "In Germany, above all result matters but in Japan people are praised for their efforts", he observed. On energy politics, Franz criticized that calculations of the costs of nuclear energy in Japan usually omit the costs for the disposal of nuclear waste. He praised the appeal of Japanese culture which, however, the Japanese themselves did not promote enough due to their attitude of "sophistication with understatement". An audio file of the talk (in Japanese) is available here.
"No word on vaccines, no testing at all."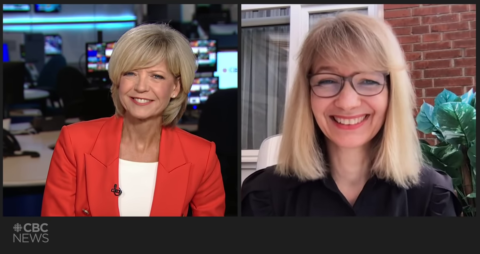 Several international media have interviewed DIJ deputy director Barbara Holthus about Olympic volunteering and the risks of holding the Tokyo Olympics amidst the ongoing pandemic. Barbara appeared on the Canadian broadcaster CBC's News Morning Show (video), the Australian news programme Ticker News (video), and CNN's news show The Lead (video). Barbara criticized the lack of vaccination opportunities for volunteers and said that it was too dangerous to hold the Olympics this year. Barbara was also interviewed by German news agency DPA and her statements appeared in several German news outlets, including Zeit online and FAZ online (in German). For more information on research related to the Olympics, see the DIJ's special project on the Tokyo Olympics and the open access book publication Japan Through the Lens of the Tokyo Olympics. 
What remains of the Tokyo Games? DIJ researchers at INEAST East Asia Day

DIJ deputy director Barbara Holthus and principal researcher Torsten Weber will participate in this year's online INEAST East Asia Day at Duisburg-Essen University on June 11. The event "NOlympia? The Tokyo Games and what remains of them" will discuss the fate of the world's biggest sports festival in times of a pandemic. Other participants are Katharina Bauernschmidt (Paracanoeist, Team Germany Paralympics) and Martin Fritz (Japan-based journalist and author). The event will be moderated by DIJ alumnus Axel Klein (Professor for Social Sciences of East Asia/Japanese Politics, Duisburg-Essen University). Details and registration here
New on YouTube: Roundtable 'Belt and Road Initiative as Method'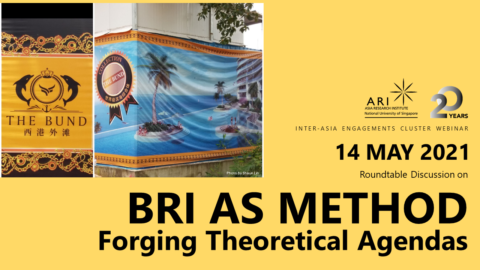 What are broader theoretical implications of China's Belt and Road Initiative (BRI)? Members of the Max Weber Foundation Research Group on Borders, Mobility and New Infrastructures convened the Roundtable Discussion 'BRI as Method: Forging Theoretical Agendas' to discuss the significance of China's controversial project for the geography of knowledge production. A video of the event is now available on the DIJ's YouTube channel, including links to the abstracts of the papers by the panelists Tim Bunnell, Yang Yang (both ARI), Darren Byler, Tim Oakes (both University of Colorado Boulder), Chong Ja Ian, and Woon Chih Yuan (both NUS). The panel was convened by Shaun Lin, Naoko Shimazu, and James D Sidaway. The research group, located at the NUS in Singapore, was founded in 2017 and is supported by the DIJ and the Max Weber Foundation. More information here.