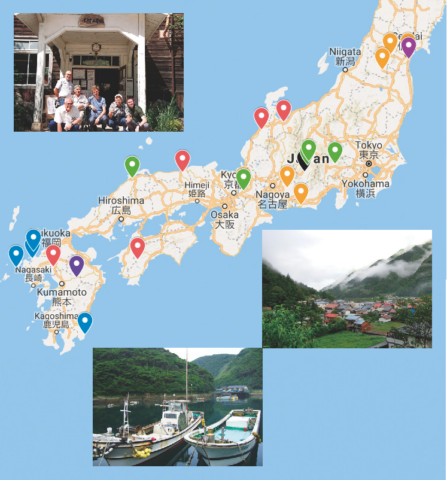 Download
Anmeldung
This is a past event. Registration is no longer possible.
DIJ Mailing List
Please subscribe below to stay informed about our research activities, events & publications:
Local Self-organization and Civic Engagement in Regional Japan
7. März 2023
The Future of Local Communities in Japan – Risks and Opportunities in the Face of Multiple Challenges was one of the DIJ's research clusters from 2015 to 2022. It studied numerous challenges confronted by Japan's rural and semi-urban peripheries. Demographic shifts and depopulation, structural change due to globalization and technical development, and not least the task of climate protection including the increased use of renewable energy sources all have particularly grave implications in the non-metropolitan regions.
This conference presented the multidisciplinary projects conducted within the research cluster. They were complemented with presentations by prominent Japanese scholars in the field. The DIJ continues to study these and related issues in the new research cluster Sustainability and resilience.
The event wrapped up with a book break and dinner reception.
List of selected publications by conference speakers (PDF).
9:00      Greetings
9:15      Panel 1: Introductory overviews
Franz Waldenberger (DIJ Tokyo): Japanese Municipalities – A Quantitative Overview.
Tomoo Matsuda (MRI): Local Communities in Japan – Challenges and Coping Strategies.
10:30    Coffee Break
11:00    Panel 2: Civic Engagement and the Demographic Challenges of Regional Japan
Sebastian Polak-Rottmann (DIJ Tokyo): Linking Agents in Social Welfare Provision in Rural Japan: Building up Resilient Communities.
Isaac Gagné (DIJ Tokyo): Social Welfare of and for the Community: Neighborhoods, Networks, and Volunteerism in Iida and Natori.
Barbara Geilhorn (DIJ Tokyo): Japanese Regional Theatre Tackling the Challenges of Old Age and Elderly Care.
Ken Hijino (Kyoto University): 'Populationism' and the politics of depopulation in Japanese municipalities.
13:00    Lunch
14:30    Panel 3: Ambiguities of Decentralization, Peripheralization, and Local Self-Organization
Sonja Ganseforth (Leipzig University): Local Self-Organization in Natural Resource Management – Fishery Cooperatives Under Pressure.  
Norio Okada (Kwansei Gakuin University, Nishinomiya): SMART Governance for Japan's Creative "Machizukuri" Challenges: From Problem-oriented Approach to Sense-making/Value Creation Approach.
Hanno Jentzsch (Leiden University): Governing Decline – Shifting State-Society Relations in Regional Japan.
16:00    Coffee break
16:30    Panel 4: What is the Local in Japanese Regions?
Sonja Ganseforth & Hanno Jentzsch
Comment by Hiroko Kudo (Chuo University)
17:15    Final discussion and outlook
18:00    Book Break Rethinking Locality in Japan (Routledge 2022)
Verwandte Forschungsprojekte